Mobile Recharge Software
With Our Mobile Recharge Software, you can easily recharge all mobile operators, DTH operators, Postpaid bill, Electricity Bill, FASTag recharge, Insurance premium, Google Play Card and many more. Our Software have different levels like retailer, Distributor and Super-distributor depends on commission, option and interface, So you can start mobile recharge business with your choice.
You can also start with white lable software also. In Our white label solutions, you will get fully dedicated software with your branding.
Our Services
MOBILE RECHARGE DISTRIBUTORSHIP
Distributorship is a business opportunity where an individual or organization can become a distributor and offer many services to your retailers like mobile recharge, DTH, Postpaid bill, Electricity bill, Gas bill, FASTag recharge, google card, LIC premium and more.
Create Unlimited Retailer
Manage Fund
Allow Commission
Withdraw daily profit
WHITE LABEL RECHARGE SOFTWARE
Get a branded website and android app with user-friendly control panel to start your own recharge company.
Your name website
Your company logo
Android application
Your contact details
Your company branding
RECHARGE ADMIN SOFTWARE
Our admin software enable you to offer a wide range of multi recharge services, including prepaid and postpaid mobile recharge, Utility Bill and more
Create Unlimited Retailer panel
Create Unlimited distributor panel
Create Unlimited M distributor panel
Create Unlimited API user
RECHARGE SOFTWARE DEMO
A1Topup gives you a clear view by demo panel that how all operation will work and how to use each and every functions. Here you can check..
How to create retailer, distributor, MD & API panel?
How to check recharge report?
How to transfer balance to your clients
About Us
A1Topup Services Pvt Ltd is a Multi Recharge Software Company located in Hyderabad. We offer B2B and B2C mobile recharge software at affordable price. A1Topup makes easy to start mobile recharge business and also provides proper guidance that how to develop this business. In A1Topup recharge software you can do mobile & DTH recharge, FASTag Recharge, Postpaid bill, Electricty bill, Gas bill, Insurance and much more. Our services includes Recharge Portal development, Mobile Recharge API, Master distributorship, distributorship and retailer ship which is available at affordable price. Once you purchase software, we will activate your account within 24 hours, after that your users can do transactions through website and android app.
recharge software features
User Friendly software
Our software is user-friendly, Anyone can operate this software, No need of any technical knowledge
Support in All devices
Our software is compatible with Multiple Mobile Recharge API and Android Based Software.
Complete training of admin panel
We are giving full training to our customer how to operate everythings and also give idea how to make more profit in recharge business.
24*7 Customer Support
Customer satisfaction is our first perioriy, We give our best support to the customer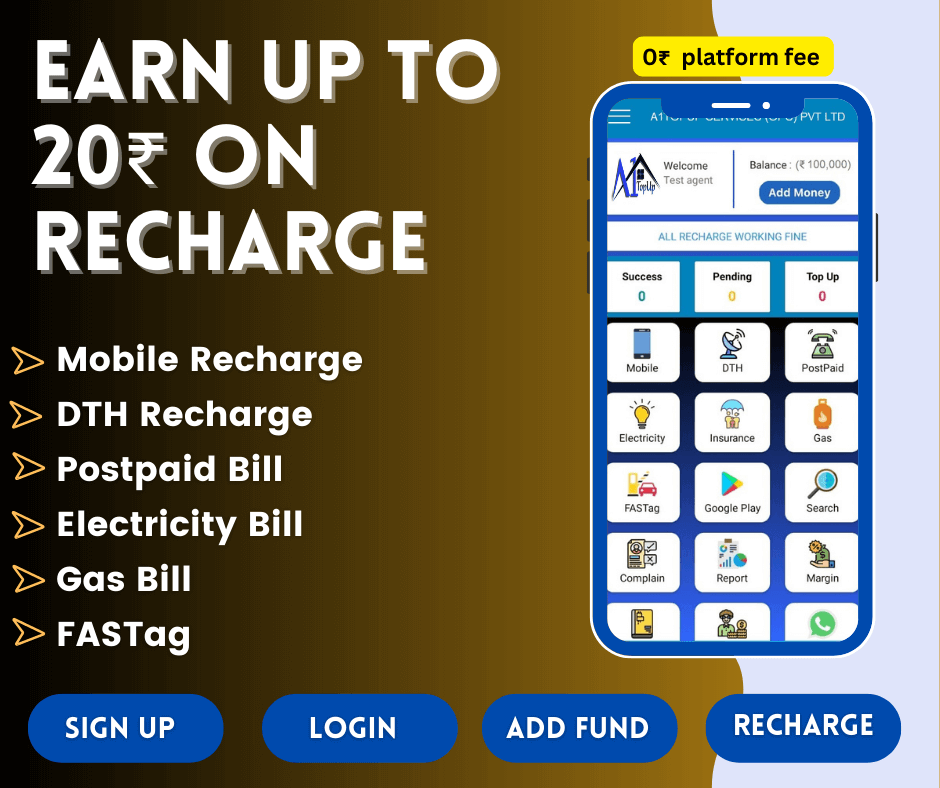 Frequently Asked Questions
What is Mobile Recharge Software

Mobile Recharge Software is single sim recharge solutions where anyone can start recharge business with own brand name. A1Topup offering best recharge software to start recharge business where we provide website with your brand name , application, logo, Free API, Virtual balance, search plan, SSL security. And you can integrate unlimited API in our software.

Is mobile recharge software secure?

Yes, mobile recharge software is secure, provided that it uses SSL encryption and is integrated with a secure payment gateway. Additionally, mobile recharge software must comply with data protection regulations and security standards, such as the Payment Card Industry Data Security Standard.

What is B2B Recharge Business

B2B stands for business to business recharge software where customer leads recharge software with his own brand name and they are fully independent on each other.

What is recharge admin portal

Recharge Admin portal is a online platform where you can give recharge services like mobile recharge, DTH, postpaid, Data card, Domestic money transfer. In admin portal you can create different level of panel like retailer, Distributor, M.distributors and agent and you can allow them different margin.

Can I Add Third-party API in software

Yes!! In our software ,there are option to add unlimited API in very easy wasy. You can use Multiple API for Different services.

How to start recharge business

A1Topup made easy to start recharge business, Our company setup all things need to start recharge business and give full training how to use our portal.Feel free to ask any questions to our support.
Our Address
Vanasthalipuram, Hyderabad, India 500070. (Head Office)
Bari Road, Purana Topkhana, Balaganj, Lucknow, India 226003.
Call Us
+91 9161019161
+91 8125943396
Email Us
a1topupservices@gmail.com
support@a1topup.com